Vintage Manuals, Inc.


W5AMI - Site devoted to AM. A must see site.


Tribute to WRL and Leo Meyerson.


Devoted to Heathkit, a must see.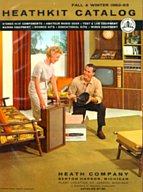 KB9JJA devoted to Heathkit, Plus lots of LINKS.


Custom Sound - Very good radio repair faciltiy


American Radio Relay League

W8RO (EX - KF8AT) Home of Collins Videos

WA3KEY Virtual Collins Museum - A must to vist.

WA2RQY Photos of neat gear and an old friend from 10 Meters AM.


Romand Enterprises - Collins Radio-Replicas Division

KK5IM - Jay Miller

WA4KCY - Neat pictures etc.

VE1FC - Up and comming site.

Radio Netherlands - Check out their Antique section


Ken's CB Repair and manuals

Brian's page on Amateur radio and Hockey - It's refreshing.

Assistance in Getting your Ham ticket.

KD4CPL - Nice Photos

WA2WHV - Very neat site

QCWA Homepage

Many good links from Isle of Jersey

Very good links page "KE4ARM"

VE7TCP - Nice site with good info and links

KC7GNM - Nice site to visit

Grill cloth for old radios (NEAT)

Many nice photos of Boat Anchors "KB8TAD"

Sisters Home page (Family stuff).
Back to Vintage Manuals Home Page